Inside This Issue
Wellness Works | Policy Updates | CSHC News | California News | News From Our Partners
Youth In Action | Tools, Tips, & Resources | Careers | Events
Join Us in L.A. May 22 for Wellness Works: Festivities With a Purpose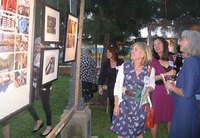 Save the date for the second annual Wellness Works celebration benefitting kids' wellness initiatives at CSHC, The L.A. Trust, and ART from the ashes. This year we are gathering at the historic Pico House in downtown Los Angeles on May 22 to honor L.A. Supervisor Mark Ridley-Thomas, a passionate advocate for children's well-being. Order tickets, become a sponsor, or buy a tribute ad online or download and return an Order Form.
This year's Wellness Works marks the start of a 3-day art exhibition at the historic Pico House. The show will feature artwork created by LAUSD students and L.A.-based professional artists. These donated works will incorporate materials reclaimed from school-based health center renovation sites.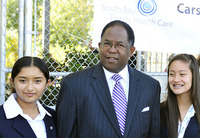 Don't miss our VIP Reception on May 22, from 6-10 pm.  We will be honoring L.A. Supervisor Mark Ridley-Thomas for his achievements in championing children's health. MC'd by award-winning actor and playwright Charlayne Woodard, our VIP event will stir your senses with gourmet appetizers and wines, live music, and enticing silent auction items alongside the unique artworks featured in the Wellness Works Art Exhibition. Purchase one of the artworks for your own enjoyment – or to donate for display at one of LAUSD's 13 new school-based wellness centers. VIP tickets are $100. Order tickets now!
Policy News
Support AB 174 to Promote Mental Health Services in Schools

CSHC and the California Pan-Ethnic Health Network are co-sponsoring AB 174, a statewide bill to create a grant program that will fund school-based mental health services for students impacted by trauma. AB 174 passed in the Assembly Health Committee on April 9 and is now headed to the Appropriations Committee. We need your support to make this issue a priority in the legislature! Fax or email your letter of support to Assembly Member Bonta, ATTN An-Chi Tsou, at 916-319-2118 or via email. Download a fact sheet here and sample letter of support here. Please also complete our quick, 1-minute survey here to help us mobilize school health advocates around AB 174.
Read an editorial from the San Francisco Unified School District Superintendent that describes how school-based health centers have helped students affected by trauma. Trauma has serious consequences for health, educational achievement, and long-term well-being. Currently, there is no state funding explicitly directed to either SBHCs or school-based programs focused on trauma. Barriers inherent in existing funding streams prevent schools and SBHCs from reaching all students with all necessary services.
Superintendents From Across California Sign On to Letter Urging Federal Funding for SBHCs
"The West Contra Costa Unified School District is definitely in support of funding for school based health centers.  Since we've added them to our schools in 2007, our high school attendance is up, our dropout rate is down, violence in our schools is way down and academic achievement is up."
– Dr. Bruce Harter, Superintendent, West Contra Costa Unified School District
Nineteen California school superintendents — including State Superintendent Tom Torlakson — joined their colleagues from other states in signing a joint letter calling for the inclusion of $50 million for the operations of SBHCs in the fiscal year 2014 budget.  The letter was circulated by the National Assembly on School-Based Health Care to key members of Congress.
CSHC Executive Director Serena Clayton was interviewed about the action by KCBS radio in San Francisco. You can hear both segments of the interview that aired April 11 here and here. Read more about the letter and see a list of California's signatories on our website.
Request for SBHC Funding Heard in Assembly Budget Subcommittee
More than four years after SB 564 was signed by Governor Schwarzenegger creating a grant program for SBHCs, the issue of funding was heard this April in the Assembly Budget Subcommittee on Health and Human Services. The Subcommittee noted that the program has never been funded and described the impact that a $10 million funding stream would have. Several members expressed strong support. Obtaining funding for any new program is a long shot with so many cuts yet to be restored, but we will continue to emphasize the value of SBHCs in meeting the goals of health care reform.
California School Health News
2013 Conference Recap: Hundreds Gather in Long Beach to Network, Learn, and Be Inspired

Nearly 400 school administrators, educators, health care providers, and children's health advocates converged on The Westin Long Beach for Vision & Voice for Healthy Students March 14 and 15. This year's conference was the first to offer intensive pre-conference workshops, all three of which were completely sold out! See our write-up, review workshop handouts, see photos, and download the program booklet.
CSHC Featured in California Healthline Special Report

Serena Clayton was interviewed for a California Healthline Special Report on school-based health centers and the Affordable Care Act. Three other Bay Area-based experts on school-based care were also interviewed and they discuss the new roles that SBHCs could play in the future. Listen to the report. Download the transcript.
Offers From Our Partners
Get Resources to Enrich Kids' Nutrition at HealthyEating.org

The Dairy Council of California – one of CSHC's Partners for Opportunity – has launched HealthyEating.org , their new online resource center for teaching healthy lifestyle habits. Download a PDF to learn more.
HealthyEating.org features four 30-minute Parent Toolkit Presentations designed in partnership with the California PTA that provide all the tools that you need to conduct a parent workshop.
Other features include:
Increase Kids' Access to the Internet With CSHC and Comcast

Being able to get online helps students and their families stay connected to resources, information, and community.
We have partnered with Comcast to help promote their Internet Essentials program, which offers discounted home Internet to students and their families. This program is a great opportunity that SBHCs can make available to low-income students and their families by promoting it in their clinics and schools. Comcast has a variety of free bilingual promotional materials ideal for displaying and distributing at SBHCs.
Internet Essentials offers a low monthly rate of $9.95 plus tax; no price increases, activation fees, or equipment rental fees; opportunity to purchase a low-cost $149 computer; and access to free Internet training — online, in print, and in person. Learn more about the partnership. Learn about co-hosting an open house with Comcast. Contact CSHC Communications Manager Marcel Reynolds at 510-268-1031 or via e-mail to order promotional materials that can be delivered to your SBHC.
Youth in Action
Youth-2-Youth Conferences Boost Students' Skills, Leadership

CSHC's Youth Board brought together nearly 200 high school students and more than 60 adult allies during two Y2Y conferences — one in Oakland and one in Los Angeles. The gatherings increased leadership skills for youth peer-to-peer health educators from high schools in Northern and Southern California. Youth participants attended workshops on public speaking, popular culture and health, leadership, pathways to higher education, and community advocacy. Read our write-up to learn more, see photos from NorCal and SoCal, and watch a video of NorCal students talking about the importance of SBHCs!
Do you know a graduating high school senior who wants to continue being involved as a peer youth health leader? Recommend CSHC's Youth Board! We are seeking applicants for 2013-14. Send your all-star graduating students this link and encourage them to apply!
California News
Know a Child Experiencing Coverage Gaps Amid the Healthy Families Transition? Share Your Story
With the Healthy Families to Medi-Cal transition well underway, California Coverage & Health Initiatives (CCHI) wants to know about families that have been negatively impacted by the transition. CCHI has created a survey for you to share with any families experiencing problems with a child's coverage. Please forward the link to your networks.
Tools, Tips, & Resources
Register for Our Free Webinar on Adolescent Friendly Services
Join us on Thursday, May 30, from 12-1 pm PT to learn how you can make your SBHC more adolescent friendly, especially in regards to providing reproductive care. Learn about research on reaching adolescents and hear from SBHCs with successful teen programs. Space is limited so register now!
Learn at Your Leisure With Our Webinar Archive
Did you miss our recent webinars on "Virtual Dental Homes" or Advances in School-Based STD Treatments? We are now posting recordings from CSHC and NASBHC online. Bookmark the page and check back frequently.