Inside This Issue
California News | CSHC News | Youth In Action | Policy Updates: California | National News
Funding Opportunities | Tips, Tools, & Resources | Events, Workshops, & Conferences
Register Before Feb. 8 for Vision & Voice for Healthy Students
Discounted early bird rates for our statewide conference end February 8! Join us in Long Beach March 14-15 for 21 workshops, an opening keynote from The California Endowment's Dr. Robert K. Ross, intensive pre-conference workshops, innovative exhibits, and networking with hundreds of children's health advocates. Register online now!
California School Health News
Congratulations to California's SBHCs That Received More Than $14 Million in Federal Grants!

We are very excited that 31 school-based health centers (SBHCs) across California received a total of $14.34 million in late December. The grants are part of the Affordable Care Act (ACA). This is the third and final round of nearly $200 million in grants that have been awarded to 520 SBHCs nationally since 2011. See a full list of recipients in both our press release and our online summary, and check out the media coverage on our site.
Communities Celebrate New SBHCs
At least three new school-based health centers have opened across California in the last few months. Congratulations to the following communities on their new facilities: Monroe Clark Middle School in San Diego, West Oakland Middle School Health and Family Resource Center, and Villacorte School Based Clinic in La Puente. Do you know of more openings in your community? Share them with us!
What's Happening at CSHC
CSHC Partners With Comcast to Increase Internet Access

We have partnered with Comcast to help promote their Internet Essentials program, which offers discounted home Internet to students and their families. This program is a great opportunity that school-based health centers can make available to low-income students and their families by promoting it in their clinics and schools. Comcast has a variety of free bilingual promotional materials ideal for displaying and distributing at SBHCs.
The Pew Research Center reports that nationally, about 45 percent of households with a combined annual income of $30,000 or less do not have broadband access. As a result, they face disadvantages in getting a quality education, strengthening job skills, obtaining news or accessing health, educational, and financial information that is essential to improving the quality of their lives. Comcast's Internet Essentials program actively addresses the three primary barriers to broadband use as identified by the Pew Center – a lack of understanding, the cost of a computer, and the cost of the service.
Internet Essentials offers a low monthly rate of $9.95 plus tax; no price increases, activation fees, or equipment rental fees; opportunity to purchase a low-cost $149 computer; and access to free Internet training — online, in print, and in person. A household is eligible to participate if:
it is located in a Comcast service area;
has at least one child receiving free or reduced price school lunches.
has not subscribed to Comcast Internet Service within the last 90 days; and does not have an overdue Comcast bill or unreturned equipment.
Learn more by visiting our Offers From Our Partners page or going to InternetEssentials.com. Contact CSHC Communications Manager Marcel Reynolds at 510-268-1031 or via e-mail to order promotional materials that can be delivered to your SBHC.
Welcome CSHC's New Program Director, Juan Taizan!
We are excited to welcome Juan Taizan, who joined us January 22 as Program Director after serving as the Youth Health Services Manager for Tiburcio Vasquez Health Center Inc. Juan will be helping new and existing SBHCs respond to challenges and opportunities in health care reform. He will be developing tools to help SBHCs become even more integral to the health care and education systems. If there is an issue or challenge you want to make him aware of feel free to reach out to him via e-mail.
Youth in Action
Oakland and Los Angeles Summits Bring Together Young School Health Advocates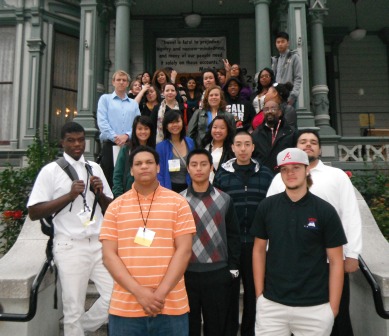 Our third annual Y2Y Conferences for Northern and Southern California will be held in February and April. Young school health advocates from across the greater Bay Area will meet in Oakland on Wednesday, February 13. The NorCal Conference is open to select participants from our Y2Y Network. The Southern California Y2Y Conference will be held on Friday, April 5 at the Magnolia Place Family Center. We are excited to welcome new and existing youth leadership teams for this day-long event. You can register online to attend. Contact Kat Gutierrez for more information.
California Policy Updates
Healthy Families Transition
The New Year brings more developments to health coverage and care in California. On January 1, California began its transition of approximately 850,000 children from the Healthy Families Program to Medi-Cal. The transition is expected to be complete by October. For school-based health centers, this means that a number of patients may be switching insurance. While ultimately, this may simplify billing procedures, a number of children's health advocates have expressed concern about ensuring there are an adequate number of Medi-Cal providers willing to serve the influx of new children, as well as about the states monitoring plan for the transition. We will continue to follow these issues as the transition continues.
National News
Help Us Secure More Federal Funding for SBHCs
Not only is February School Health Center Awareness Month, but it is also the best time to advocate for school-based health center (SBHC) funding in the 2014 federal budget! Along with NASBHC and school health stakeholders from across the country, we are urging Congress to appropriate $50 million for SBHC operations. Throughout February, we will be targeting the chairs of important appropriations committees as well as key members of California's Congressional delegation, teaching them more about the SBHCs in their districts and asking them to support funding for SBHCs. School principals and superintendents are influential SBHC supporters and we want as many of them as possible to join this sign-on letter. If you would like to help us secure the signature of your principal or superintendent, please contact Alice Ricks. Finally, on February 13 , we will hold Speak Up for School Health, a "Call/Email Your Legislator Day." Stay tuned for details and mark your calendars to help us get more federal funding for SBHCs!
February Is National SBHC Awareness Week
We are partnering with the National Assembly on School-Based Health Care (NASBHC) to promote school-based health centers in February. Stay tuned for more information or contact Marcel Reynolds to learn how you can raise support and awareness for your SBHC.
Funding Opportunities
Covered California Exchange Outreach and Education Grants — Applications Available Soon!

Under health care reform, millions more Californians will be eligible for affordable health insurance. Enrolling those people in coverage is critical to the success of California's health benefit exchange, Covered California. Next week, Covered California will release the Request for Applications for its new Outreach and Education Grant program. We hope that many SBHCs and schools will apply.
The grant program will support local and statewide organizations in educating Californians about health care coverage. Over $40 million in funds will be available in 2013 and 2014. This is an exciting opportunity for SBHCs and schools, many of whom are already deeply engaged in this work. The Request for Applications is expected on January 22, with applications due March 4.
Because the minimum award size is likely to be quite large, CSHC is planning to apply as part of the statewide priority. If your SBHC would like to partner with us on our application, please let us know by emailing Kristin Andersen. We do not yet know the grant program requirements or scope of work, but, once the RFA is released, we will follow up with you about possible collaboration. We will look first to CSHC members as potential partners. Of course, if you're not yet a member, please join!
Tips, Tools, & Resources
It's Not Too Late to Vaccinate for the Flu
Influenza activity continues to increase and most of the country is now experiencing high levels of influenza-like illness (ILI), according to the CDC's latest FluView report. The CDC recommends influenza vaccination and antiviral treatment when appropriate at this time. Click here for a CDC update, and immunize your students whenever possible! Find a vaccine center near you at www.cdc.gov/flu.
Host a Health Career Intern or Become a Paid Summer Intern
Health Career Connection (HCC) inspires and empowers undergraduates to pursue careers in health and to become health leaders. HCC is currently seeking applicants and host organizations for its paid summer intern program that offers undergraduates a full-time position for 10 weeks. Download an intern information flyer and encourage youth to apply before February 11. If your organization is interested in hosting an intern, download a flyer to learn more. The deadline to notify HCC of your intent to host an intern is March 15.
Events, Workshops, & Conferences
Wellness Works to Honor L.A. Supervisor Mark Ridley-Thomas

Wellness Works is a festive evening of art, wine, and music with a purpose. Mark your calendars for May 22, when we will gather at the historic Pico House in Los Angeles to honor Supervisor Mark Ridley-Thomas, a leader in addressing health disparities in L.A. County and a passionate advocate for children's well-being. Proceeds from the event benefit the Los Angeles Trust for Children's Health (the L.A. Trust), Art from the ashes, and CSHC. Stay tuned for more details on the celebration.
Visit Our Events Page for Details on Upcoming Webinars and These Conferences
California School Nurses Organization Annual Conference, 2013 Southern California Sexual Health Summit, and ITUP's 17th Annual Statewide Conference