Inside This Issue
Our New Name | Register for Conference | Our Mental Health Focus | New SBHCs | Quality Improvement Cohort Launches | Guidance to Support Boys & Men of Color | Oral Health Survey | SBHCs in Lake County
CSHC Is Becoming the California School-Based Health Alliance
Starting January 1, the California School Health Centers Association (CSHC) is becoming the California School-Based Health Alliance.
We are changing our name in partnership with the national School-Based Health Alliance as part of a national strategy to lift the visibility of school-based health care. Read more about why we are changing our name.
Our new name expresses our expanded vision to make health care accessible to kids at all schools in California. While school-based health centers (SBHCs) are still the ideal model for care delivery, we recognize that every school has students with health needs, and we want to offer solutions for all of these schools even if a comprehensive SBHC is not feasible at the moment.
Online Registration Now Open for Our 2014 Conference
Register online now for Advancing School Health in a Time of Reform — our annual conference in Oakland this March that will help you make the most of education and health reforms to maximize school health programs.
Join us on Thursday, March 6, for one of three optional pre-conference workshops and our welcome reception. Be inspired onFriday, March 7, by keynote speakers author Dr. Rishi Manchanda and San Francisco School Board Member Jill Wynns. Choose from 20 timely workshops and network with hundreds of health care providers, educators, and children's health supporters.
Interested in engaging further with our attendees? Become a sponsor or exhibitor. See the benefits.
Welcome to Alicia Rozum, Our Mental Health Project Director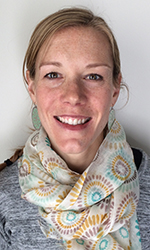 Our name and logo are not the only changes we are welcoming at the California School-Based Health Alliance. We are also expanding our focus on school mental health and have hired Alicia Rozum to lead our efforts.
Alicia comes to us from San Francisco Unified School District where she was the Wellness Coordinator at Raoul Wallenberg High School. Alicia has more than a decade of experience managing school mental health programs. We are excited to work with her to help schools increase access to mental health services for kids across California.
Welcome to California's Newest SBHCs!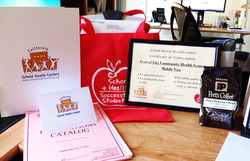 More than 20 SBHCs have received welcome baskets from us to help them get off to a good start. The baskets contain helpful resources -including our new Smart Moves for New SBHCs tip sheet – along with a few goodies for the staff.
See what is happening at California's newest SBHCs. Do you not see your SBHC? Send us your news, photos, and video!
First Meeting of SBHC Quality Improvement Initiative a Success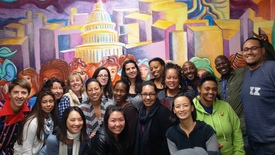 Staff from six SBHCs gathered for a two day training to learn the fundamentals of better care as part of our new Quality Improvement Leadership Initiative. The 18 participants worked in teams to apply the concepts of quality improvement to site specific projects. The session also allowed time for collaborative learning, including sharing successes and challenges and coaching each other on best practices. This cohort will continue working together in 2014.
Resource: Supporting the Mental Health of BMoC
Does your work support the mental health of boys and young men of color? Download our newest report, which describes the successful mental health practices of many SBHCs and offers outreach and engagement strategies to support young men's mental health care. Read the report here.
Online Survey for SBHCs Offering Oral Care
The CDPH Oral Health Unit is leading a brief online survey  to assess the preventive dental services provided to school age children. The survey aims to identify the needs of underserved children by providing a snapshot of oral health needs and available services in different regions. Take the survey here: www.surveymonkey.com/s/TL8XSQM. Your name will not be shared. If you have questions, contact Nalini Parimi at Nalinidevi.parimi@cdph.ca.gov or via phone at  916-552-9717 or Rosanna Jackson at Rosanna.jackson@cdph.ca.gov or via phone at 916-552-9896.
Lake County Embraces SBHCs
Lake County California is one of the newest communities to embrace SBHCs, having just opened the Konocti Wellness Center. The community is hearing more about SBHCs thanks to our board member Dr. Mark Cooper, DDS.
Dr. Cooper recently received a Spirit of Lake County Award as Youth Advocate of the Year for his work bringing the Konocti Wellness Center to the community. He was also awarded Medical Person of the Year and Champion for Education by the Adventist Physicians Network of Northern California because of his work with SBHCs. Congratulations, Dr. Cooper and Lake County!