Inside This Issue
Covered California | Policy Updates | Funding Opportunity | Offers From Our Partners
California News | CSHC News
CSHC Partners With Covered CA on Insurance Outreach
We are one of 48 organizations that received a grant in May from Covered California. Our grant is for a network of 12 school-based health centers (SBHCs) and other school programs to educate young people about health insurance.
The grant builds on our successful PHIRE program at high schools in San Francisco and San Jose, which trained 31 students who educated more than 2,500 members of their communities. Listen to a CBS Radio report on PHIRE.
Caitlin Chan has joined our team to assist with coordinating the grantee network. She was previously an AmeriCorps VISTA participant at Oakland Unified School District, where she launched a pilot health insurance enrollment program. Welcome, Caitlin!
Join Us in Advocating for Student Health in California
CSHC's School Mental Health Bill Goes to Senate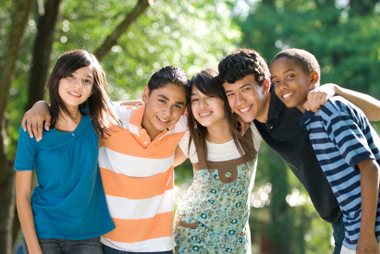 AB 174 (Bonta), which we are co-sponsoring with the California Pan-Ethnic Health Network, passed the Assembly Floor and is on its way to the Senate. A big thanks to everyone who supported AB 174!
To reduce costs, legislators amended AB 174 to become a pilot program focused on Alameda County. We recognize there is a statewide need for kids' trauma-informed mental health care. However, we hope that a successful pilot will lay the groundwork for a broader program.
AB 174 must now be approved by the Senate. The Senate Health Committee has requested new letters from all supporters. Please join us by sending a letter of support to the Senate.
Budget Update: Local Control Funding Formula Approved
The California Legislature passed a budget for 2013-14 that changes the school funding formula to provide additional resources to districts that serve the most vulnerable students. The Local Control Funding Formula (LCFF) will significantly increase per pupil spending in districts where most of the state's SBHCs are located. The LCFF requires school districts to adopt local control and accountability plans. These plans must set goals and lay out strategies in a variety of areas, including chronic absenteeism and school climate.
CSHC joined other organizations in advocating for this language because we know that school health and mental health services can improve attendance and school climate. It will be important for us — and you! — to educate school and district leaders about how SBHCs and school health services can help them achieve these goals. Read more about the LCFF. Read the detailed language on local control and accountability plans (see Article 4.5).
Help Us Add Health to CA's School Accountability System
California is revising its Academic Performance Index to incorporate indicators beyond test scores. The California Department of Education (CDE) is seeking input, and we are urging the inclusion of four new indicators: Chronic Absence Rates, FitnessGram Results, Graduation Rates, and Suspension / Expulsion Rates. Sign a petition in support. Share your feedback with the CDE.
Funding Opportunity for SBHCs – Deadline for RFP is July 17
The Center for Care Innovations is seeking proposals for $25,000 grants as part of its Engaging Patients to Improve Care (EPIC) program. EPIC aims to strengthen the relationship between the patient, family, and the health care team, incorporate patient and family voice to improve care delivery, and engage patients and families as partners in improving health and health outcomes. Learn more.
Next Central Valley SBHC Coalition Meeting to Be Held Sept. 13
The Central Valley SBHC Coalition had its inaugural meeting on May 31. Attendees from over 30 organizations, including community health clinics, school districts, and SBHCs, learned about CSHC's advocacy efforts, shared strategies for starting an SBHC, and networked. Based upon the success of the gathering, the group has decided to meet again September 13.
New SBHCs Serve Students and the Community
Several new SBHCs have opened this Spring. New clinics in Los Angeles County are serving students as well as the wider community. Read our post to learn more about the SBHCs at Dominguez High, Washington Prep, Fremont High, Jordan High, Locke High, and Manual Arts High.
In Fresno County, the Kings Canyon Unified School District opened its first SBHC with funding from the federal HRSA grants and the help of Kaiser Permanente and Adventist Health. The Jefferson Elementary clinic also offers health education and youth engagement programs.
Offers From Our Partners
Dairy Council of California and Comcast have partnered with CSHC to share valuable resources with students and families. Access free healthy eating tools and learn how families can sign up for Internet service for a low price.
CSHC Joins Hallways to Health Initiative
We are partnering with Kaiser Permanente and the National Assembly for School-Based Health Care on Hallways to Health, a national initiative to expand SBHC programs on obesity prevention, social and emotional health, and school employee wellness.
Five SBHCs will receive $45,000 per year for two years and will participate in a learning collaborative facilitated by CSHC: Roosevelt Middle School, Oakland; JFK High School, Richmond; San Fernando High School; Rice Family Health Center, Chula Vista; HOPE Clinic, Costa Mesa.
Three-Day Wellness Works Event in L.A. Inspires Kids, Public
Thank you to all of the organizations and individuals who helped make Wellness Works a big success. Our VIP event May 22 paid tribute to L.A. County Sup. Mark Ridley-Thomas for his steadfast support of SBHCs. This year's expanded event also featured a three-day exhibit showcasing art from L.A. artists and Los Angeles Unified School District students of all abilities. More than 350 kids visited the exhibit and heard some of the artists talk about the pieces. Event proceeds help CSHC, The L.A. Trust for Children's Health, and ART from the ashes strengthen programs helping kids get the chance to be healthy and successful. See photos from the Supervisor and The L.A. Trust.
Farewells and Hellos From a Changing CSHC Team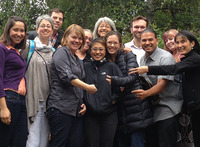 Kat Gutierrez left CSHC in June to pursue a Ph.D. at UC Berkeley. Kat joined CSHC in 2007, helping form the Youth Board and increasing youth engagement. Senior Policy Analysts Alice Ricks and Joanie Rothstein are also saying farewell. Alice is moving to Mississippi where her husband will be teaching at Ole Miss, while Joanie is leaving to dedicate more time to her kids.
We are excited to welcome Caitlin Chan and Hamilton College undergrad Stephanie Lang, who is interning for the summer.