Inside This Issue
New Bill for Funding SBHCs | Webinar: LCFF & School Health Supports | Connect Kids to Coverage | 2014 School Health Champions | Funding Opportunity
Record Turnout Builds School Health Momentum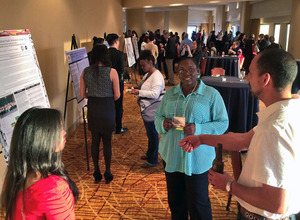 More than 500 health care providers, educators, and children's advocates attended Advancing School Health in a Time of Reform in Oakland March 6-7, helping us mark our largest turnout ever for a statewide annual school health conference. Thank you to our sponsors who helped make this success possible!
You can see photos, review workshop handouts, and learn more on our redesigned website. Stay tuned for the date and location of our 2015 conference.
Support SB 1055: State Funding for SBHCs
We are sponsoring SB 1055, a bill by Senator Carol Liu (D-La Cañada Flintridge) that would update language in California law that supports school-based health centers. The Public School Health Center Support Program was created in 2006 to support school-based health programs through technical assistance, oversight, and grant funding. However, the program has never been funded. Download a fact sheet about SB 1055.
We need your help advocating for this bill. Please make an important contribution by sending in a letter of support. Your letters demonstrate how SBHCs bolster public health by providing important preventative health care to children and youth.
Webinar: LCFF for School Health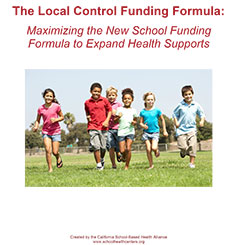 Want to know more about how school funding in California is changing? Thinking about how the Local Control Funding Formula (LCFF) presents an opportunity for schools to invest in health services?
Join us from 4-5 pm PST on Thursday, April 10, to learn how you can get involved in developing your district's Accountability Plan (LCAP) by advocating for enhanced student health and support services.
You can get a head start on learning about the new funding law by checking out the LCFF webpage on our new website. You can also download our fact sheets on the new school funding changesand the state priorities on student engagement and school climate.
Go ALL IN With Us to Get Kids Covered
There are just days left until the March 31 deadline for enrolling families in health coverage options through Covered California. You can get the word out to families by distributing materials at your school.Contact us if you want to host an enrollment event before March 31.
Meet California's School Health Champions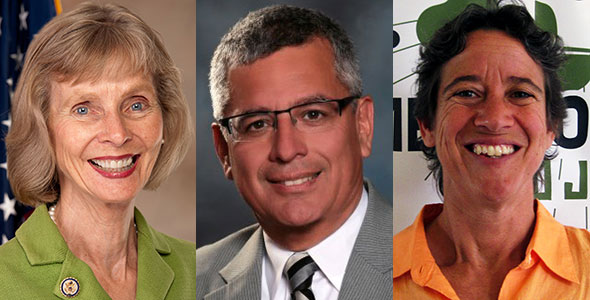 Three Californians are among the first to be honored by the California School-Based Health Alliance's Board of Directors in the inaugural School Health Champions Awards announced during our conference March 7.
Our 2014 School Health Champions are Rep. Lois Capps, Kerman Unified School District Superintendent Robert Frausto, and El Cerrito High School's James Morehouse Project Director Jenn Rader.
Offer From a Partner for Opportunity

Free resources for schools. Blue Shield of California is working with schools to help kids and families connect to health, dental, and vision coverage. They can provide outreach materials, coordinate enrollment events in English and Spanish, and even school supplies.
Blue Shield will also help families find out if they qualify for financial assistance. Families can choose any health plan available in their county, and are not restricted to choosing Blue Shield. Contact Stacy at stacy.anderson@blueshieldca.com to learn more.
Funding Opportunity: School Counseling
The U.S. Department of Education is accepting applications through April 28 for grants to fund elementary and secondary school counseling programs. Funds will help educational agencies develop innovative approaches for initiating or expanding programs.
Thanks to Our 2014 Conference Sponsors
 Gold:

Silver:
                        
Bronze: