Inside This Issue
Speak Up for State Funds for SBHCs | Webinar June 5: Trauma Impacts | Connect Families to Coverage | Health Careers for Youth | Sacramento's New Mobile SBHC | SBHCs in Statewide Wellness Plan | Two Conference Proposal Opportunities | Funding Opportunities
Speak Up for State Funding for SBHCs
California has more school-based health centers (SBHCs) than most other states but is the largest state not to have state funding for them. We are currently doing everything we can to change this! We are sponsoring SB 1055, which updates our existing (but unfunded) state program to include a new grant category for prevention programs. Thank you to everyone who submitted letters of support!
Now we need your voice to get funding for SBHCs included in the 2015 budget. $10 million would support more of California's underserved students by expanding and strengthening SBHCs. The Governor did not include this funding in his budget but we still have a chance to work through our champions in the legislature. However, public support is critical. Please join the growing list of supporters calling for funding of SBHCs. Your voice will make an important difference for children who rely on SBHCs.
Together We Have CA Connected & Covered
Last June, we started engaging school districts, school-based health centers, and youth in our three health insurance outreach and education projects aimed at connecting California's uninsured kids and their families to health coverage. Since then, we have reached more than 43,000 people!
Along with our 11 partner organizations, we educated more than 38,000 people through our outreach, which targeted young adults and hard-to-reach populations.
Working with public schools and community partners, our educators connected Asian-American, Latino, African-American, and other communities to information and coverage. One of our successful strategies used school district records to send individualized letters in various languages directly to uninsured families.
We bolstered this outreach with additional programs and great partnerships:
Our Peer Health Insurance Rights and Education (PHIRE) program trained 29 youth from four Bay Area high schools to educate their peers about the Affordable Care Act. Through in-class and schoolwide presentations, these students reached 2,400 youth!
As part of the All In for Health Campaign, we distributed family-friendly information about coverage to schools and broadened public knowledge of the importance of schools to educating families about coverage. You can continue this work by sharing the latest fact sheets on Medi-Cal and Covered California enrollment for special exceptions. Please download these fact sheets and share them with your school.
Engaging Youth & Investing in the Future
More than 120 youth from Northern and Southern California attended two Youth-to-Youth (Y2Y) conferences in L.A. and Oakland that focused on educating high school students about careers in health care. All participants are active members of the youth advisory boards at their school-based health centers. You can read more about the Y2Y conferences.
Youth advisory boards engage students with leadership opportunities through peer health education, school and community advocacy programs, and health care internships and jobs. Are you interested in learning how you can start a youth advisory board at your school-based health center? Please contact us to learn more.
New Mobile SBHC for San Juan USD
Elica Health Centers in Sacramento is getting ready to roll out its new 40-foot-long, state-of-the-art mobile medical vehicle that will serve students at five schools in the San Juan Unified School District. You can read more here and see photos here.
The clinic has two exam rooms on board as well as the latest technology for electronic health records. The five schools that will be served are all Title I and have at least 84 percent of students receiving free or reduced-price lunches. Elica, formerly known as Midtown Medical Centers, received funding for the mobile school-based health center through the Affordable Care Act's capital grants for school-based health care. California received $30 million in 2011 and 2012.
SBHCs Included in California Wellness Plan
The California Department of Public Health (CDPH) has released its 2014 Wellness Plan and we are pleased that school-based health centers are recognized in it as critical access points for health care. The Plan is the result of a statewide process to develop a roadmap with partners in order to create communities in which people can be healthy, improve the quality of care, achieve health equity, and empower communities to create healthier environments.
Submit a Proposal for Connecting the Dots
The California Partnership to End Domestic Violence is hosting its statewide conference – Connecting the Dots: Domestic Violence, Health & Well-being – in Los Angeles September 17-19. They are seeking proposals about culturally and linguistically relevant strategies for working with traditionally underserved and un-served communities. You can learn more and submit a proposal online.
Attention School Social Workers!
The California Association of School Social Workers annual conference, School Social Work: Expanding Horizons is November 7 in Lakewood. Interested in presenting? Proposals are due May 23, on topics ranging from restorative discipline and trauma-informed classrooms, to substance use and self harm. You can learn more online and submit a proposal here.
Time-Sensitive School Mental Health Grants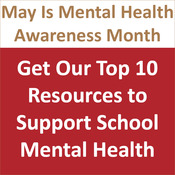 The Substance Abuse Mental Health Services Administration has announced a request for applications for the "Now Is The Time" Project AWARE (Advancing Wellness And Resilience in Education) federal grants. These 2-year awards, available to state and local education agencies, aim to train school staff in recognizing and responding to mental illness symptoms in children and youth. Applicants are required to conduct "Youth Mental Health First Aid" training as part of the grant activities. School districts must also apply for the Department of Education School Climate Transformation Grants. Approximately 100 grants will be awarded.
For more information, or for assistance with your application, please contact Alicia Rozum, Project Director, Mental Health, arozum@schoolhealthcenters.org.
Would you like more information on federal education programs that can fund universal prevention and mental health programs? Check out the new resource from the Center for Health and Health Care in Schools that details 15 funded programs. Download the guide.